Flow and Thermal Analysis
Flow Analysis
Valuable Insight For Your Molding Process
more details
During the infant stages of a new mould build, it is critical that your hot runner supplier can provide input and feedback on the part design and layout of the mould. Flow analysis software programs can help study the effect of gate location and number of gates, injection pressure and tonnage requirements, weld lines, shrinkage and warpage so that the performance of hot runner and mould are optimized during design stage.
Mastip utilises leading edge flow analysis software to achieve best in class solutions. This gives us in-depth understanding of our products ensuring we can deliver reliability and performance, the result to you is maximum return on investment.
Mastip can help provide either internal or independent levels of part fill analysis during the design process. Please contact us for more information.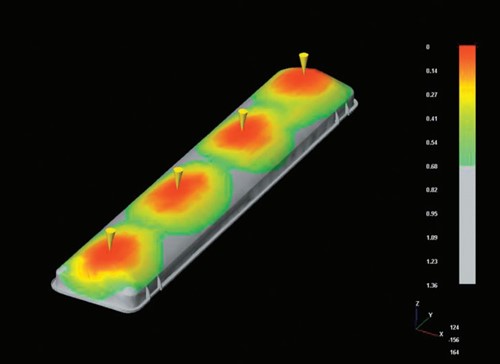 Thermal Analysis
Improve the reliability of shrinkage and warpage predictions
more details
Mastip uses SIGMASOFT ® Virtual Molding primairly to study the thermal behaviour of plastic inside hot runner systems.
Since the hot runner system and mould plates are at two different temperatures, actual thermal profile of resin inside melt channels vary based on heater element layout of manifold as well as contacts with mould plates.
Though heat loss from a hot runner system occurs through all three modes of heat transfers, Conduction and Convection top the list and are studied in the analysis. Objective of the analysis is to ensure a thermal balance of hot runner system on top of rheological balance that in turn delivers a wider processing window to work with.